Ok, I was asked to review some good candy necklaces but there aren't too many different types.
The original candy necklace is typically made with small tart candy with a retractable elastic string. These are fun to wear and eat at the same time. Warning, I learned as a teen, not to wear them when its extremely hot outside, because they do actually melt and get sticky around the neck 🙂
You can buy candy necklaces at any candy store around in the mall and they are relatively cheap $0.99 per one necklace and if you want a container of candy necklaces about 72 pieces (great for retro parties) it runs around $30.00.  Although, many people have fun making their own candy necklaces because it is really EASY.
Other Types of Candy Jewelry
Below is a list of  great candy jewelry
Candy Lipstick
Charms Ring Pops
Candy Bracelets
Candy Watches
Candy Purses or Pocketbooks
Candy Beads
As an adult, I've found many interesting candy accessories and underwear
The adult candy can be purchased at most Adult Stores such as Eden Fantasy's. The prices for the accessories range from $10+.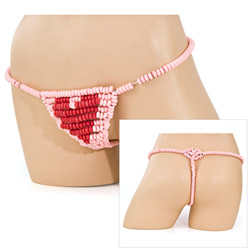 Good luck with finding more candy jewelry, chocolate jewelry, candy rings and rock candy jewelry